Aluminum Alloy Fuel Tank 3 Axles Fuel Tank Semi Trailer


Fuel tank trailer is used to transport gasoline, diesel oil, and benzene. It is also used to transport some types of inflammable and plosive liquid.
Fuel tank trailers have several compartments, to transport different kinds of liquid at the same time. Also, it could ensure stability when the trailer is running on a slope.
The type of material used on a fuel tank trailer determines its price and loading capacity. The strength of aluminum trailer is low but it's light and resistant to rust. The fact that aluminum is lighter and lower in strength than steel does not mean that aluminum trailers are weak. The trailers have enough loading capacity to transport fuel or oil in bulk
3 Axis Chassis

Curb weight

12415kg

Load weight

16010kg

Overall size

10328*2400*3630mm

Main Beams

Heavy duty and extra durability designed,welded by automatic Submerged-Arc

Axle

3pcs German BPW Axle in 12 Tons or fuwa axle in 13ton

Landing Gear

JOST Two-speed, manual operating, heavy duty landing gear

King Pin

JOST bolt-in king pin 90# or 50#

Suspension

German design mechanical suspension

Pneumatic Braking System

Dual Line braking system

Tire

425/65R22.5 20PR, 12pcs +1pcs spare

Tank Specification

Tank

Material

Aluminum Alloy 5038, 5454

Shell and head Thickness(mm)

4-5mm/6mm

Capacity(m³)

45m³

Media

Gasoline/diesel

Compartment baffle

4mm

Manhole

Europe manhole ,500mm cover with breath valve

Discharge valve

DN80 each compartment 1pcs

Discharge pipe

DN80, 2% angle to keep discharge clearly, outlet at right side

Bottom valve quantity

Based on compartment Qty

Side Guard

According to customer's requirement

Electric system

24V lighting system.7-pole distribution cable

Anti-static electricity

Copper sheet, cable, static conducting belt

Painting

2 anticorrosive primer coats and two level top coat

1.Apply advanced butt welding technology,high pressure gas tank leak after molding technology,Make the tank with high intensity,gravity center steady sate and stable.

2.Handrail and walking platform at the top,movable ladder,1 level gauge,Mudguard,fire extinguisher,spare tire carrier and standard tool box

3.Have holes through the middle of the bottom,Strenthen ati-wave plate to reduce the impaction when truck running and increase the oil stength.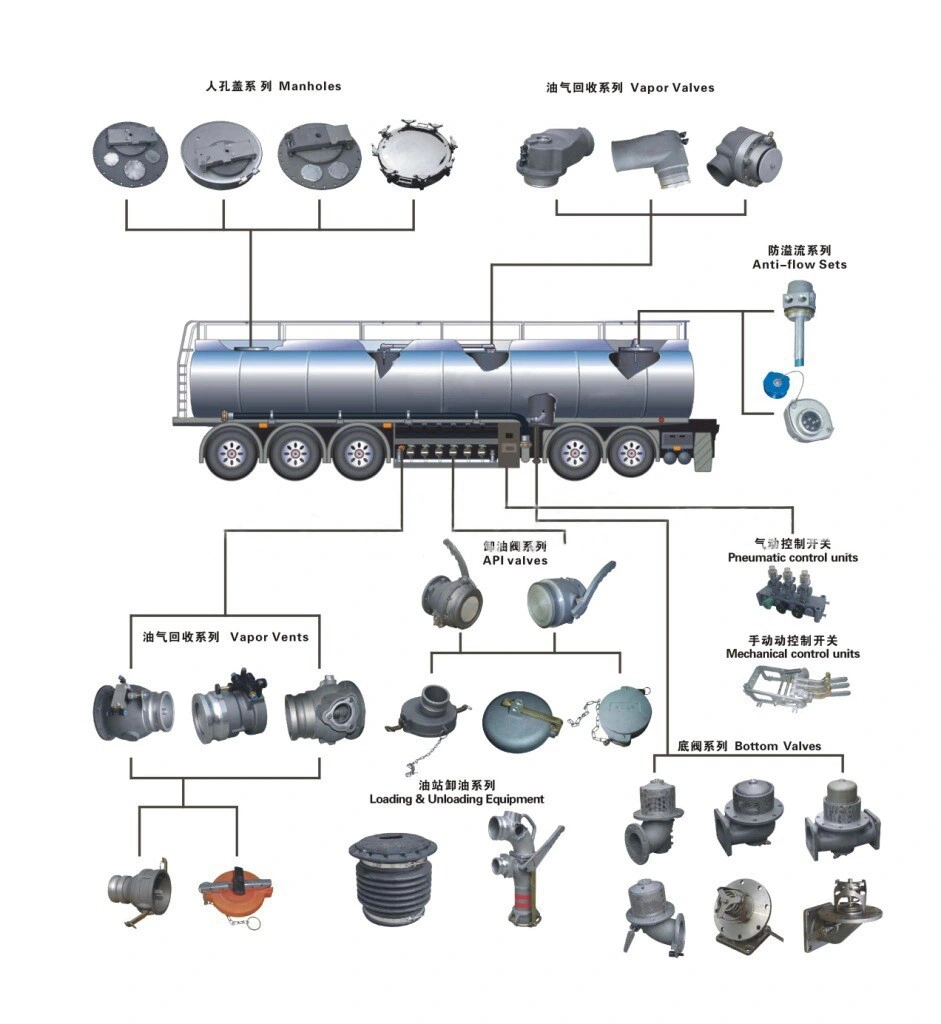 Product Notes:
1. We can produce 30-60cbm fuel semi-trailers.
2. Tank material is 5mm - 8mm thickness carbon steel or stainless steel or aluminium alloy.
3.Inside the tanker there are multi-channel enhanced wave baffles and through-holes at the lower end of baffles to ease the car shell oil shocks and increase the strength of the tank.
4. Factory direct sale, low price and high quality.