NON-DISMANTLE CLEANER FCS 200 for Automotive fuel injector tester and cleaner
Fuel System Cleaning FSC-200 can clean fuel injector, Air intake system and Three-Way Catalytic Converter, it is a Free disassembly cleaning tools for MST-A360 Fuel injector cleaner and tester.
FSC-100 Fuel System Cleaner Description: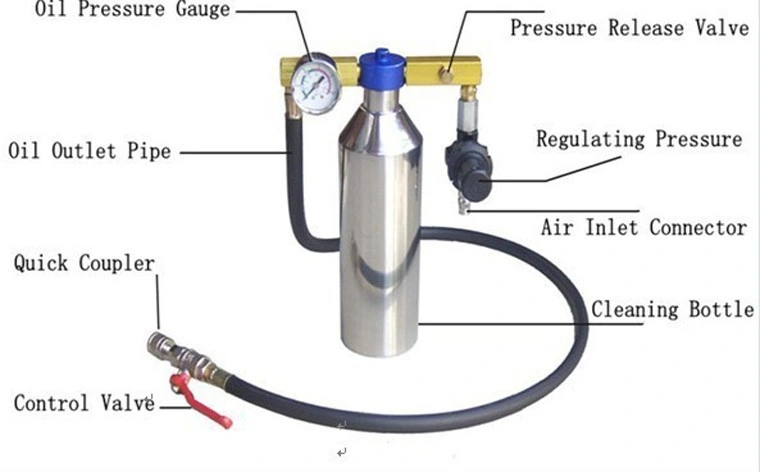 2. Check fuel injection style, throttle or EFI
1. Find out the fuel return hose, disconnect it and plug it with suitable adaptor;
2. Find out the fuel inlet hose, disconnect it and connect it with the outlet hose of the cleaner with proper adaptor;
3. Connect the outlet and return hose of the fuel tank, and open the tank cover; if there is not return hose, please move the fuse of the fuel pump so that the pump will not work;
4. Charge the cleaning fluid into the tank of the cleaner;
5. Connect the air source power to the air port of the cleaner, adjust its pressure 40-50PSI;
6. Check all connect point to make sure there is not leakage;
7. Start the engine to clean the fuel system.
1. To the throttle style system, the way of connection is the same, just adjust the pressure of the air source 1-5PSI.
3. The way to identify the inlet and return hose:
1. Generally speaking, inlet hose is bigger, return hose is smaller;
2. There is always a filter connected in the inlet hose side, and a buffer in the return side;
3. There is arrow on the hose to show the fuel flow direction
4. Wear protective glasses before operation . observe the joint whether there is oil leak. if there is, please start to work after remove the fault. as a result of losses caused by human negligence, the user undertakes the responsibility