JAC Diesel Forklifttruck / JAC Auto forklift with ISUZU engine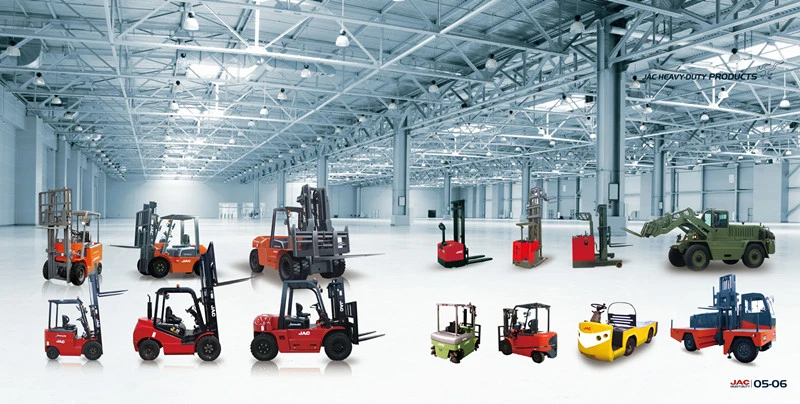 Diesel Forklift Truck: 1-3.5T,
Tansmission: Mechanic/Auto
Engine: Brand: Nissan, BAOFA, GM

Electric Forklift: 1-3.5T, AC Curtis Controller

Warehousing Series: Stacker, Hand Pallet Truck..


JAC J FORKLIFT ADVANTAGE:

1. Stream-line design: Exclusive streamline design, fashionable and spirituality.

2. Powerful Engine: Equip with high performance and quality engine: ISUZU, VM, YANMAR, MITSUBISHI, KUBOTA

3. High performance shell hydraulic oil: Protect key spare parts and prolong working life.

4. Safety belt seat: Safe, comfortable and equip with warning system without fasten seat belt.

5. High exhaust fans: Provide better working environment for operator.

6. Integrated overhead guard: Well protect the operator

7. Hydraulic shift and key-switch type flame-out device: Operation and flame-out more easier.

8. Up market meter and car parking type brake: Totally enclosed car type meter desk, car parking type brake save effort for operation.

9. Side shifter: Standard equip with side shifter, operation more easier and improve work efficiency.
CPCD30

CPCD35

POWER UNIT

DIESEL

DIESEL

LOAD CAPACITY

kg

3000

3500

LOAD CENTER

mm

500

500

SERVICE WEIGHT

kg

4280

4820

STANDARD LIFT HEIGHT

3000

3500

LENGTH TO FORK FACE

mm

2740

2805

OVERALL WIDTH (STANDRD/DOUBLE FRONT TYRE)

mm

1230/1710

1230/1710

HEIGHT OF OVERHEAD GUARD

mm

2105

2105

AISLE WIDTH WITH PALLET

mm

4155

4240

1000*1200 ACROSS FORKS

TURNING RADIUS

mm

2500

2575

TRAVEL SPEED, WITH/WITHOUT LOAD

km/h

17/18

19/19.5

ENGINE FOR OPTION

JAC

ISUZU

VM

JAC

ISUZU

VM

4DC1

C240PKJ-30

753IE4

4DC1

C240PKJ-30

753IE4

MITSUBISHI

KUBOTA

YANMAR

MITSUBISHI

KUBOTA

YANMAR

S4S

V2403

4TNE92

S4S

V2403

4TNE92

ENGINE BRAND

JAC

ISUZU

VM

MITSUBISHI

KUBOTA

YANMAR

ISUZU

FUEL TYPE

DIESEL

DIESEL

DIESEL

DIESEL

DIESEL

DIESEL

DIESEL

ENGINE TYPE

4DC1

C240PKJ-30

753IE4

S4S

V3600

4TNE98

4JG2

RATED POWER

45/2500

35.4/2500

50/2500

41.8/2300

46.9/2400

42.1/2300

44.9/2450

MAX.TORQUE

185/1600

137.7/1800

250/1800

176/1800

209.8/1600

186/1700

184.7/1800

NUMBER OF CYLINDERS/DISPLACEMENT(L)

4/3.059

4/2.369

3/2.2

4/3.331

4/3.62

4/3.318

4/3.059

BORE * STROKE (mm)

94.5*107

86*102

94*107

94*120

98*120

98*110

95.4*107

EMISSION REGULATION

EC STAGE 3A

EC STAGE 3

EC STAGE 3B

EC STAGE 3A

EC STAGE 3A

EC STAGE 3A

EC STAGE 2

About JAC
JAC Heavy-duty Construction Machine is a subsidiary company of JAC Motor Group-one of Top 500 Enterprises in China. Starting business in 2003, currently, JAC is developing rapidly, with annual growth rate of sales volume up to 50%. Our products can be classified into 15 series, and are available in over 400 varieties, including 1- 25T diesel forklift, 1-5T electric forklift, and 1-3.5T gasoline and LPG forklift. Apart from that, we can also manufacture warehouse equipment such as 1-2T electric tow tractor, stacker, electric pallet truck, and so on.
Our company strives to become a leading enterprise in both domestic and international market, by taking "Enhancing strength, overcoming weakness, adjusting structure, cultivating feature, and constructing advantage" as our guide for the research and development of the material handling equipment. In 2013, JAC ranked among the TOP 3 Enterprises in forklift industry in China. The unprecedented development speed makes JAC well-known in the industry. With great support from the parent company, JAC has access to advanced technology and incorporates the state-of-the-art technology into our product. Our construction machine is ISO 9001, 1400, 18001 and CE compliant, capable of satisfying customer demand, perfectly. Following the development planning of the parent company, JAC constructs its own engine production and supply system. We at JAC are making great effort to become the most competitive supplier for forklift, worldwide.