Australia 56PA332 IP66 32A Clipsal Plug Weatherproof Industrial Plug
1.Single phase 3 pin plug IP66 rated industrial plug,electrical plug adapter,cable plug(56P332) description
Model No

Description

Phase

Available

Voltage

Cable Size

IP Degree

56P310

3Pin

10A

250V

6-12.5

(mm2)

IP66

56P315

3Pin

15A

250V/500V

56P320

3Pin

20A

250V/500V

56P332

3Pin

32A

250V/500V

56P410

4Pin

10A

250V/500V

6-15.7

(mm2)

56P420

4Pin

20A

250V/500V

56P432

4Pin

32A

250V/500V

9-28

(mm2)

56P440

4Pin

40A

250V/500V

56P450

4Pin

50A

250V/500V

56P510

5Pin

10A

250V/500V

6-15.7

(mm2)

56P520

5Pin

20A

250V/500V

56P532

5Pin

32A

250V/500V

9-28

(mm2)

56P540

5Pin

40A

250V/500V

56P550

5Pin

50A

250V/500V
Single phase 3 round pin angle plug
Availables in...20A. 32A
Voltage: 250/500V
Code: 56PA320/56PA332
Three phase 4 round pin angle plug
Availables in 10A. 20A. 32A. 40A. 50A
Voltage: 500V
Code: 56PA410/56PA420/56PA432/56PA440/56PA450

Three phase 5 round pin angle plug
Availables in 10A. 20A. 32A. 40A. 50A
Voltage: 500V
Code: 56PA510/56PA520/56PA532/56PA540/56PA550

Certificates: SAA, IQNET, CQC
Other protections: waterproof, UV resistance, Dust-proof, Anti-corrosion, Pollution proof.
Package: inner color box, outside standard carton. 54.5*23.5*45cm/carton, 100Pcs/carton.
Standards of 56 series plugs:
Pin configurations for plugs, sockets and switched socket outlets comply with AS/NZS3123 and switches with appropriate parts of AS/NZS3947.3 & AS/NZS3133.
Features of 56P plugs series:


1, Gland Nut(with 50mm threaded cable entry)
For alternative facility termination.
Note: IP Ratings only apply to cable terminations as per wiring instructions
2, Cable Gland
Very flexible with positive grip to ensure reliable sealing
3, IP66 Rating(in accordance with AS1939)
When engaged in the 66C switched socket outlet, with the hydrant ring fully engaged, an international protection rateing of IP66 is achieved
4, Internal Cable Clamp
Grips two ways and is fast-fixing, preventing the cables(s) from twisting
5, Transparent Polycarbonate Body
Allows instant examinations of connections
6, Stainless steel Combination Head Screws
Easy installation and corrosion resistance
7, Sturdy Terminal Housing
For years of Reliable service and durability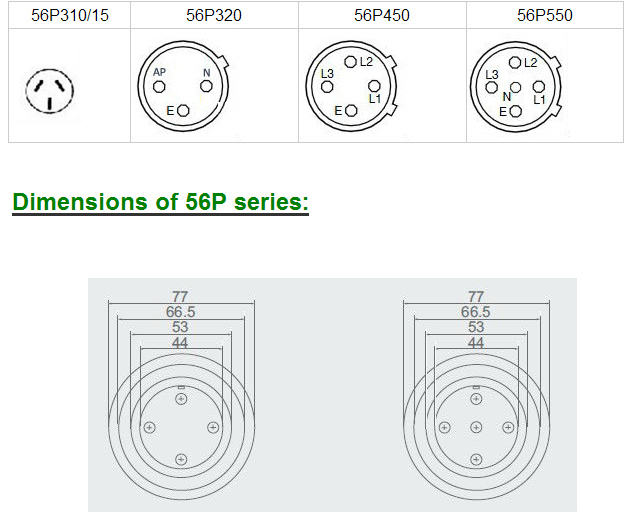 8, Wide lock Ring
Can be unscrewed and tightened with ease, even when hands are gloved. Provides full sealing with a built-in, sponge-like gasket
9, Clear Pin Surround
Providing quick and sure location of plug in socket and the protection of pins
Note - IP Ratings only apply to cable terminations as per wiring instructions.
Plug Configurations of 56P Industrial Plugs

More information, please feel free to Contact us:
Company: ZHEJIANG XINCHI ELECTRIC CO., LTD
Address:

Fangdouyuan east Industrial Zone, Liushi Town, Wenzhou, Zhejiang, 325603, China.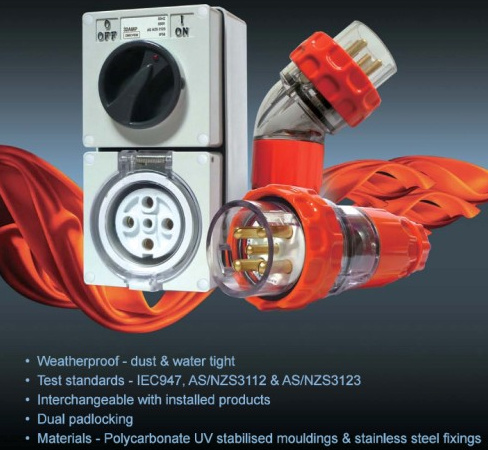 | | | |
| --- | --- | --- |
| specification: | | |
| Moderl NO | Description | IP Degree |
| 56PA320 | 3 Pin 20A250V/500V | IP66 |
| 56PA332 | 3 Pin 30A250V/550V | IP66 |
| 56PA410 | 4 Pin 10A500V | IP66 |
| 56PA420 | 4 Pin 20A500V | IP66 |
| 56PA432 | 4 Pin 32A500V | IP66 |
| 56PA440 | 4 Pin 40A500V | IP66 |
| 56PA450 | 4 Pin 50A500V | IP66 |
| 56PA510 | 5 Pin 10A500V | IP66 |
| 56PA520 | 5 Pin 20A500V | IP66 |
| 56PA532 | 5 Pin 32A500V | IP66 |
| 56PA540 | 5 Pin 40A500V | IP66 |
| 56PA550 | 5 Pin 50A500V | IP66 |